Moving abroad, especially into a culture so distinct and different to your own, can be wonderfully challenging. At the moment, I seem to be going through a period where life is full of question marks. My previous cultural viewpoints are being questioned and interrogated by the cultural viewpoints I see in the Cambodians around me. This isn't concerning; I am not having an existential crisis. Rather, my view of self feels like it's being deepened, broadened and refined. This is particularly true of my faith and my interpretation of the Bible. I'm getting to see how it speaks and relates to a context different to my own, and therefore the stories that I thought I knew and the ideas I had are being challenged too.
One aspect of this is the tension between the concepts of individualism and collectivism. The West is typically individualistic and this will often affect their view of faith. Even their conversion narrative will be based on an individual experience: "In the prototypical born-again experience, people change their outlook on their lives by virtue of being saved, evident in a sudden, highly emotional experience of personal connection with God." (Cohen, Wu and Miller, 2016) Even if you think of a modern, evangelical church service this can be seen. It's a lot of people, eyes closed and ignoring those around them, having a deeply personal and isolated encounter with God. As teachers at a Christian school, we seem intensely concerned that our students progress from having their parents' faith to their own faith; that they should take ownership of their beliefs. Therefore, the faith of an individualist is centred around themselves and defined by their own internal experiences.
As a result, we often overlook the value of collective, community and social aspects of faith that are common to other cultural contexts (Cohen, Wu and Miller, 2016). This can be somewhat troubling because of the large amount of cultures that would be more collectivistic than the West. Furthermore, many of the countries that are collectivistic are not Christian, and therefore there is a cultural gap between what we are presenting as good news and they need to hear to be considered good news. Finally, my own personal context demands a greater understanding of collectivism and its implications in faith. As a teacher in a school where the students are mainly Asian and as someone working and living alongside Cambodians, could it be that my approach to speaking about faith fails to resonate with many of those around me?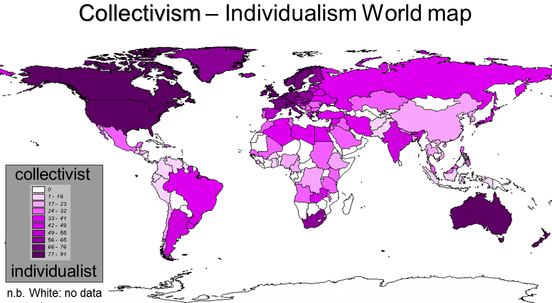 Obviously, with the West having a predominantly Judeo-Christian heritage, it's perhaps easy to answer that this cultural view is in response to this heritage and the Bible promotes a particular worldview. However, this is worth further consideration, especially as the Bible is a Middle-Eastern and Mediterranean text, deeply saturated in a collectivistic context. There are quite a few Biblical passages that suggest a purely individualistic gospel is somewhat limited.
First, is the fact that our faith is defined outside of ourselves. Hebrews 12:2 reminds us that Jesus is "the pioneer and perfecter of faith". Our faith is not because of some highly emotional feelings, but instead because of Christ and what he has done. This idea is also found in Ephesians 2:8-9, where it tells us our salvations is a gift from God and not from ourselves.
The Bible is littered with group or social conversion and miracle narratives. (One could argue there is a collectivistic undercurrent throughout the gospels and indeed much of the Bible, but I will perhaps mention some of the more blatant examples.) Whole households, for instance, were converted in one instant. There's Cornelius' household, and potentially his close friends too, who were all saved (Acts 10:24; 11:14); Lydia's household were baptised together (Acts 16:14-15); and the jailer's household came to salvation as a group (Acts 16:30-34). In Acts 8:4-8, Philip's missionary efforts in Samaria seemed to lead to the conversion of most of a city. These all seem to be examples of people coming to faith within a group context.
This is not the same as large groups of people at some evangelical event coming to faith. Although hundreds of people may simultaneously declare a faith in Jesus and ask for repentance, this is done individually and seen as a start of a solo journey of faith. What links these people is simply their attendance of some evangelical rally and their response to the same altar call. During this whole time, they may not know the person next to them who is also responding or even acknowledge them whatsoever. In these particular Biblical examples, those responding to the gospel had strong ties: they were mothers, fathers, brothers, sisters, masters, servants, friends, neighbours. They were not solo adventurers embarking on their journey. They were not lone rangers. Rather, they were members of a team, an expedition group, joining together in one shared mission. Perhaps a better image would be a rowing crew, all in the same boat.
This too can be seen in the gospels. In all three tellings of the healing of the paralysed man (Matthew 9:1-8; Mark 2:1-12; Luke 5:17-26), there is a subtle detail that suggests this team-like quality to faith. Jesus sees their faith: the faith of the friends and of the paralysed man. The faith was shared between the five of them; the act of getting the paralytic before Jesus was a group effort and their faith was the group value that drove them to do it.
Of course, this is reflected in the image of the body of Christ in Romans 12:4-6; 1 Corinthians 12:12-31; Ephesians 4:11-16. All speak of various individual parts each working together to perform a job. But perhaps Westerners focus on the individual aspect too much. When we read it, we say to ourselves, "we all have our own job, our own function, our own importance in God's church." We forget to reflect upon our interdependence upon the other parts of the body. Different organs nourish or protect or cleanse the others within the body. It is perhaps 1 Corinthians 12:21-26 that highlights the necessity of coexistence and mutual relationships:
21 The eye cannot say to the hand, 'I don't need you!' And the head cannot say to the feet, 'I don't need you!' 22 On the contrary, those parts of the body that seem to be weaker are indispensable, 23 and the parts that we think are less honourable we treat with special honour. And the parts that are unpresentable are treated with special modesty, 24 while our presentable parts need no special treatment. But God has put the body together, giving greater honour to the parts that lacked it, 25 so that there should be no division in the body, but that its parts should have equal concern for each other. 26 If one part suffers, every part suffers with it; if one part is honoured, every part rejoices with it.
Suffering and honour comes across the whole body; different parts of the body must acknowledge their collective need for each other. This is not the business-like view the individualist has: we go in, do our job and go home. Instead, we are unified and our fortunes are intertwined. Our concern, our suffering, our honour and therefore our identity is in terms of the whole body, not just that we are a hand, foot or eye.
Collectivism, by framing identity in terms of the group, also places an importance heritage and tradition. These help to shape the values, the stories and unifying histories of those belonging the group. The context for the reminder that we should be "fixing our eyes on Jesus, the pioneer and perfecter of faith" comes from the "great cloud of witnesses" that have come before us. (Hebrews 12:1) Therefore, again, spiritual encouragement to persevere does not come from internal emotion or even a personal connection but from the legacy of spiritual antecedents. The believers of the past witnessing to you is what spurs you on.
Currently, I am studying Khmer and taking a unit on Christian studies. This is what first nudged me towards further investigating and pondering the topic of culture. In a video interview with one of the teachers of the course, she mentioned how "without family we have no identity. We have no history." Here in Cambodia, a collectivistic society, the family, the group and the heritage behind that is what defines you. This too is reflected in the Bible, with household conversions, friends in faith and the encouragement and value found in your spiritual heritage.
Therefore, when we give an individualistic gospel, it is perhaps little surprise if there is little response from the collectivists in the audience. We tell them to count the cost:
25 Large crowds were traveling with Jesus, and turning to them he said: 26 "If anyone comes to me and does not hate father and mother, wife and children, brothers and sisters—yes, even their own life—such a person cannot be my disciple. 27 And whoever does not carry their cross and follow me cannot be my disciple.

Luke 14:25-27
They are told to turn their back on their family, their identity, their heritage, their security and their own life. When they add up the price, they may find it lacking. It's perhaps no surprise that Jesus threw down this particular gauntlet, given that it would have shocked and terrified most his audience. However, the Western gospel does not respond well enough. We are content to reject the confines of imposed identities and to forge our independence, failing to see the beauty of unity in interdependence. Like frustrated teenagers, we perhaps find this notion of hating mothers and fathers too easy. These verses perhaps pose little threat to us. Of course, those from a collectivistic society will have their cages rattled, and this perhaps could be a stumbling block. They would be giving up a lot. In response, what they might need to hear is this:
29 "Truly I tell you," Jesus said to them, "no one who has left home or wife or brothers or sisters or parents or children for the sake of the kingdom of God 30 will fail to receive many times as much in this age, and in the age to come eternal life."

Luke 18:29-30
God is the source of a true, glorious, vast, eternal identity. It is a heritage that starts with the Creator of the earth itself and lasts until the end of days. They become a citizen of the kingdom of God, adopted into a vast, spiritual family.
Not only do they have to hear this, they have to see it in action. In the same interview that spoke of the value of family, the Khmer teacher also told us what can overcome the surrounding fears. Our greatest witness is unity and love for one another. Her conversion was after seeing this love among the Cambodian Christians. The famous 1 Corinthians 13 passage tells us that love trumps speaking in tongues (1 Corinthians 13:1), which Paul tells us is a sign for non-believers (1 Corinthians 14:22). The 1 Corinthians 13 passage is often used in the context of marriage, rather than in its actual context that refers to Christ's body, being immediately preceded by the passage quoted above and then followed by an explanation of how the gifts are to be used to build the church. Love for one another, a crucial part of interdependence, conquers all and covers a multitude of sins.
This is why Jesus prayed this prayer for believers that heard his message, believers like you and I:
20 "My prayer is not for them alone. I pray also for those who will believe in me through their message, 21 that all of them may be one, Father, just as you are in me and I am in you. May they also be in us so that the world may believe that you have sent me. 22 I have given them the glory that you gave me, that they may be one as we are one— 23 I in them and you in me—so that they may be brought to complete unity. Then the world will know that you sent me and have loved them even as you have loved me.

John 17:20-23
Jesus prayed that we may be united, that we may be one. We are to be one with each other, but also one with Christ the Son and the Father, just as they are collectively one together. It is through and for this complete unity that we have the glory of Christ. It is this unity and oneness that will witness to the world that Jesus loves us, just as the God of love – the God who is love – loves his son.
What a joy it is to know this and what a blessing it is to learn this. I am not advocating that an individualistic worldview or Bible perspective is wrong. It's that God is so much bigger. His gospel is so much richer. The gospel allows the individualist to have our conversions, our joy and our individual fears relieved. He cares about us as our own unique person, wonderfully and fearfully made. But also, he draws us into unity with him and other believers. He restores our relationship with himself and with those on earth. God gives us an identity in him and an identity together as his body. We never have to fear being alone, we have his spirit with us, but we have our brothers and sisters in Christ who suffer and rejoice with us. And what an amazing privilege to think that Jesus prayed this for us two thousand years ago. For his is the glory, Amen.
Sources
Cohen, A., Wu, M. and Miller, J. (2016). Religion and Culture. Journal of Cross-Cultural Psychology, [online] 47(9), pp.1236-1249. Available at: https://www.researchgate.net/publication/308626003_Religion_and_Culture_Individualism_and_Collectivism_in_the_East_and_West.
Stefon, M., Benz, E. and Crow, P. et al. (2019). Christianity – Church and the individual. [online] Encyclopedia Britannica. Available at: https://www.britannica.com/topic/Christianity/Church-and-the-individual [Accessed 22 Nov. 2019].
Rishmawy, D. (2013). Is Christianity Individualistic or Collectivist? "Yes" – C.S. Lewis and J. Gresham Machen. [online] Reformedish. Available at: https://derekzrishmawy.com/2013/01/03/is-christianity-individualistic-or-collectivist-yes-c-s-lewis-and-j-gresham-machen/ [Accessed 22 Nov. 2019].
GotQuestions.org. (n.d.). What does the Bible say about household salvation? | GotQuestions.org. [online] Available at: https://www.gotquestions.org/household-salvation.html [Accessed 22 Nov. 2019].
Hofstede, G. (n.d.). Dimension maps of the world: Individualism. [image] Available at: https://geerthofstede.com/wp-content/uploads/2016/07/IDV-world-map-50.png [Accessed 22 Nov. 2019].
Hofstede Insights. (n.d.). Home – Hofstede Insights. [online] Available at: https://www.hofstede-insights.com [Accessed 22 Nov. 2019].
Holy Bible: New International Version UK
Weston, C. (2011). Understanding My Own Culture and Why it Matters. Insight, [online] (7), pp.10-13. Available at: https://friendsinternational.uk/resources/downloadable-resources/our-periodicals/insight/235-issue-7-winter-2011-12/file.